Connecticut Society of Genealogists Family History Day Seminar
Saturday, October 7, 2023
Before September 1: $52.00
After September 1: $60.00
Deadline to Register: September 22, 2023
---
9:00 AM – 9:30 PM Registration Begins: Vendor/Exhibitor Room open; 2023 Literary Award winners and entries on display; light Continental breakfast

9:30 AM –Welcome by Pauline Merrick, CSG President

9:45 AM – 10:45 AM –"Finding Women in Records: 1700-1800" – Casey Zahn

10:45 AM – 11:00 AM – Break – Visit exhibitors

11:00 AM – 12:00 PM  – "Don't Forget the Ladies" – Judy G. Russell, J.D., CG, CGL

12:00 PM – 12:15 PM – Break – Visit the exhibitors

12:15 PM – 1:15 PM –  Luncheon

1:15 PM – 1:30PM – Break – Visit the exhibitors

1:30 PM – 2:00 PM – Presentation of CSG's 2023 Literary Awards & Door Prizes

2:00 PM – 3:00 PM – "Dowered or Bound Out: Records of Widows and Orphans" – Judy G. Russell, J.D., CG, CGL
Register Below
If you wish to register by phone or postal mail, please call the CSG office 860-569-0002.
Registration includes a chance at Door Prizes from: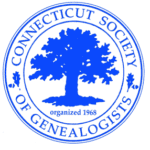 1-year membership to CSG
1-year complete subscription to MyHeritage
Four Museum & Library Passes
Two genealogy-themed necklaces
Advanced Genetic Genealogy: Techniques and Case Studies
editor Debbie Parker Wayne
Your DNA Guide – the eBook
By Diahan Southard
Your DNA Guide – the eBook is for anyone who has taken a DNA test and wants to learn more. It helps genealogists reconstruct family trees. It helps adoptees identify biological relatives. It can help you identify a specific DNA match. In short, it helps anyone explore what their DNA—and their DNA matches—can tell them about their origins.
1-year subscription to DNAPainter.com